The church supper mainstay is now trendy againBy Christopher White | July 9, 2020
When I saw a Facebook photo of a friend's favourite comfort food, I was both entranced and shocked. It was red Jell-O with fruit cocktail inside — the infamous jellied salad. I did not realize that these were still being eaten today by actual people outside of church suppers.
If you have ever been to a church or community supper, you must have had a jellied salad. They consist of Jell-O, preferably fire-engine red or neon green, and some combination of fruit and vegetables, such as shredded carrots and tinned mandarin oranges.
I have a mixed relationship with these concoctions, and I learned I was not the only one. My sister, Alison, responds to our mother's tomato aspic jellied salad with "the horror, the horror." But not only have "the Jellies" never left us, they are being reinvented as an on-trend consumable.
Listen to the author on CBC Metro Morning talking about jellied salads
For a long time, jellied foods were the domain of the rich. Gelatin was made by a laborious process involving boiling cattle hooves for hours, which required both time and servants. Fast forward to 1845, when a powdered gelatin was created. Then, in 1897, Jell-O itself was patented and became affordable for everyone.
Sandra Kell Cullen, a lover of history and a docent at the Parkwood Estate in Oshawa, Ont., explains the next phase in the salad's evolution.
"In 1904," she says, "a Mrs. Cook from Pennsylvania won third prize in a contest with her 'Perfection Salad.' This seems to be the start of jellied salads with fruit or veg in them. I found a recipe for Perfection Salad in the 1923 Canadian Cookbook. There were a couple of other jelly salads listed such as Fruit and Ginger Ale and Tomato Jelly. Twenty years later, the Canadian Cookbook was revised and this time there is seven pages of jellied salads!"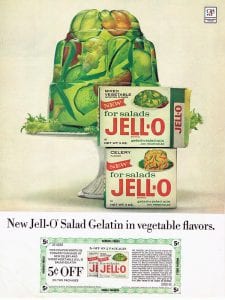 Seven pages! A cornucopia of jellies! But wait, there's more: